Brisbane's debut STRONG Pilates studio has arrived. Like nothing you've ever experienced. A pilates inspired, cardio infused full body workout that's high intensity and low-impact.
Expect to be greeted by your friendly community of trainers and peers as you move through the workout of a life time. No detail has been spared. From the programming of your daily session, to the music, to the lighting, you will leave our doors feeling stronger every time.
Enjoy the boutique experience with a premium service to match, in your architecturally designed studio featuring; Phone chargers in every locker, cold towels soaked in Eucalyptus oil post-workout and dedicated mobility area for your pre and post workout needs.
Premium ammenities have been built for your convenience including off-street parking, showers, hair-dryers and straighteners.
We've taken care of the details, now join us , to get more out of your workout, more out of your week, more out of your life.
There's only one question. Are you down for more?
FACILITIES:
Toilets, off street parking, lockers with charging ports, hair dryers/straighteners, mobility area, showers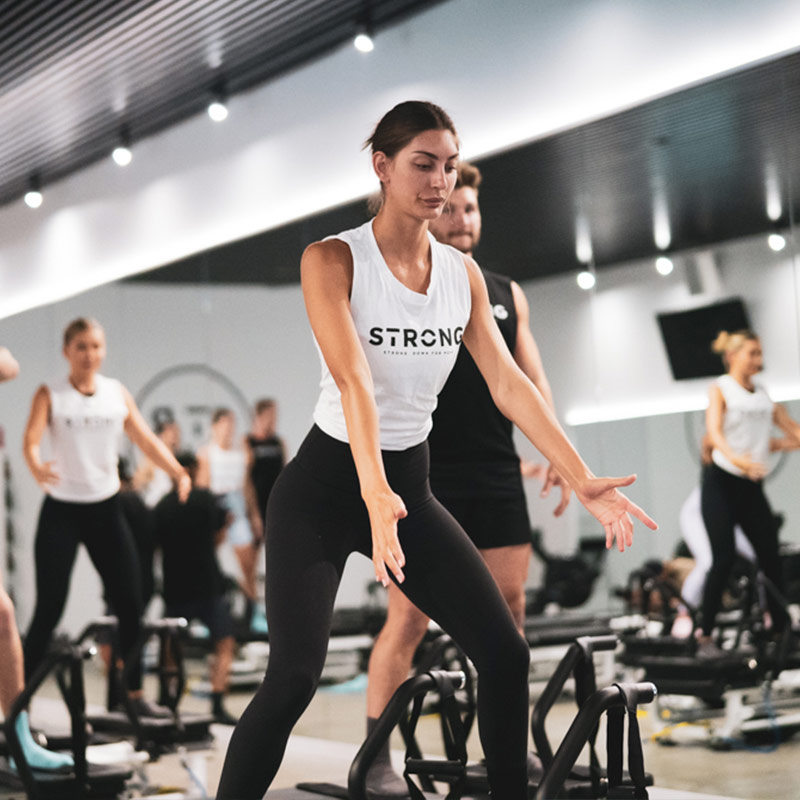 SO WHAT IS STRONG?
There's more to strong than muscles.
There's strong minds, bodies, friendships, and beats.
There's the kind of strong that starts on the inside and shines through to the outside.
That gets up before the second alarm and gets down to get more. More out of your workout, more out of your week, more out of your life.
STRONG:

a fitness experience with more. 45 minutes of pilates-inspired resistance training with a side of rowing. A different class each day, all day. Are you down?
I'M READY. LETS GET STRONG.
NEW TO STRONG
Let's book your first STRONG session.
STRONG MEMBERS
Are you Down For More? Book now.
STRONG West End
Location & Contact Details